Free Expense Report Spreadsheet Templates
DESCRIPTION:
Record your travel expenses using this template. Includes hotel, transportation, fuel, meals, phone and entertainment etc. as well as a table for recording more detailed itemized expenses. It will be very easy to customize the spreadsheet to suit your needs.
BENEFITS:
Save time by using a pre-designed spreadsheet templates to manage your business.
Very easy to customize these spreadsheetsheet templates to match your special needs.
No learning curve, if you know how to use Excel, you know how to use our software.
SCREENSHOTS: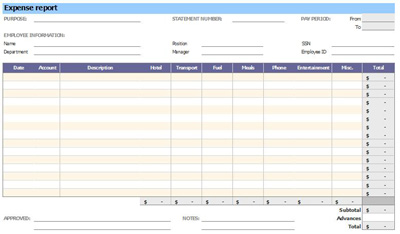 SYSTEM REQUIREMENTS:
Our software runs on any version of Microsoft® Excel® from 97-2016.
Expense Report Sheet Template Tool Download (ZIP file)