Free Employee Timesheet Spreadsheet Template
DESCRIPTION:
This Employee Timesheet template is design for small business use. It is a monthly based timesheet comes with pay rate, over time , sick and vacation columns. We put a sheet summary information on top of the sheet, and it will be very easy for you to let you find out your employee payroll information and it will easy to customize the template for your specific payroll practices too.
BENEFITS:
Save time by using a pre-designed spreadsheet templates to manage your business.
Very easy to customize these spreadsheetsheet templates to match your special needs.
You may be also interested in:
SCREENSHOTS: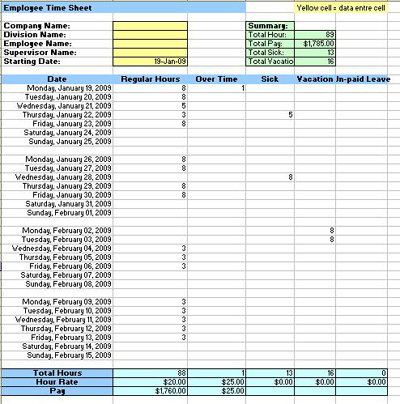 SYSTEM REQUIREMENTS:
Our software runs on any version of Microsoft® Excel® from 97-2016.
Employee Time Sheet Template Tool Download (ZIP file)